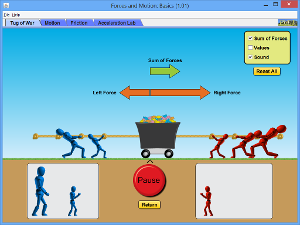 My Teacher adviser showed me this great website! They are from the University of Colorado, called PhET Simulations. It's loaded with funny and useful physics and science simulations. The best part is, you can download them! They are free and work on any system that supports Java.
They are researched based, and according to their website
PhET conducts research on both the design and use of interactive simulations to better understand:
Which characteristics make these tools effective for learning and why

How students engage and interact with these tools to learn, and what influences this process

When, how, and why these tools are effective in a variety of learning environments
I highly recommend them for any science teaching looking to integrate some fun technology into their science classroom.
http://phet.colorado.edu/en/simulations/category/physics/motion